It's been a bit quiet here, I've been working through some things in the background. I can recomend not getting 2 concussions within a few days of each other! The first month of the new year has just flown by, and we are quickly approaching Valentines day. This year for valentines day I have compiled top 12 favourite ever-lasting flower patterns to gift to your valentine. I have also added in some cacti patterns for those who love cacti. I have my own collection of cacti and indoor plants I absolutley love!
If you prefer something more practical to gift you can look at my previous valentines and flower themed posts: Rose Bookmark, Heart Bookmark or the Crochet Rose Necklace!
Long Stem Rose – Natagor Finlayson
I like this pattern from Natagor Finlayson. It is not in english but if you are at an intermediate to advances level you should be able to follow along. Otherwise you can purchase the pattern in english from Ravelry or her website store. She also has a whole range of other flower patterns on her website.
Crochet Hook Size: 1.5 mm (US size 8/Canadian & UK size 4.5) Yarn Size: 4 ply (UK) Sport (USA) 5 ply (AUS) Yarn Colour: Red, Yellow and White
Daffodil – Happyberry
instead of the traditional rose, you can bring a touch of spring to valentines day with Daffodils. I kile the pop of colour this pattern brings. The free pattern is available on Laura's site.
Crochet Hook Size: 3.5 mm Yarn Size: DK/Light worsted in yellow. Chunky/Bulky weight in green for stem. Florist tape, Florist wire (12″)
Crochet Rose – She's Crafty
This pattern is perfect for the beginner. The series of youtube videos will talk you through a step by step instruction for making a for making a rose. Her instructions are really clear and she makes it very easy to follow along to.
Crochet Hook Size: 2.2 mm Yarn Size: DK/Light worsted in red. Stitchmarker
The Red Rose Pattern
This pattern is a simple illustration for those who prefer working off charts rather then videos. I found this trawling through pintrest one day. I dont know whose pattern this is, but the pin link is here.
Lilly – Marielos Castillo
This pattern again is for those who would prefer reading a chart. This pattern was found on pintrest, and I like how the lilly is very simple to make, but makes a statement at the same time. There are less pieces that go into a lilly, which makes it a quicker project for those looking for a last minute gift.
Sunflower – Craftsyamore
This sunflower is another way to add brightness to your valentines day. Rather then the traditional red rose, how about making a sunflower boquet instead. This is an intermediate to advanced pattern, but it is free! you can find it here.
You will need: Yarn: Cotton 4-ply [ gold yellow, coffee, brown, green]. Hook 2.5mm, floral wire and tape with poly-fil fibre stuffing.
Sunflower – Krawka
For those who want an easier sunflower, I like this cute little plush crochet sunflower from the krawka blog. This pattern is perfect for a beginner. The free pattern can be found in pdf form on the blog here.
Yarn: weight Sport / 5 ply (12 wpi), Gauge 24 to 30 st is 4 inches (10 cm) in brown, yellow, green. Hook: 3mm, poly-fil fibre stuffing, wire.
Single Stem Rose – Happy Patty Crochet
My absolute favourite flower designer for crochet is Happy Patty Crochet. Their patterns are absoluteley life-like, and the range is hauge. There is almost any flower you can think of there. Have a look at their raverly store for the entire range. The recomended skill range for most of the range is intermediate.
Tiny Boquet – Ollieholly
I absolutley love this tiny boquet. I have previously made it and you can find the finished product on my instagram page. This is a great pattern to dabble with embroidery floss crochet with 1mm hooks! You definatley need to be an intermediate or advanced skill level to attempt this. This free pattern is available on their blog for free.
Australian Wildflowers – Greedy for Colour
I absolutley love native flowers. This crochet pattern and tutorial from greedy for colour features a range of wildflower patterns to make your own everlasting crochet boquet. The pattern set is available on her Etsy store and has fantastic reviews!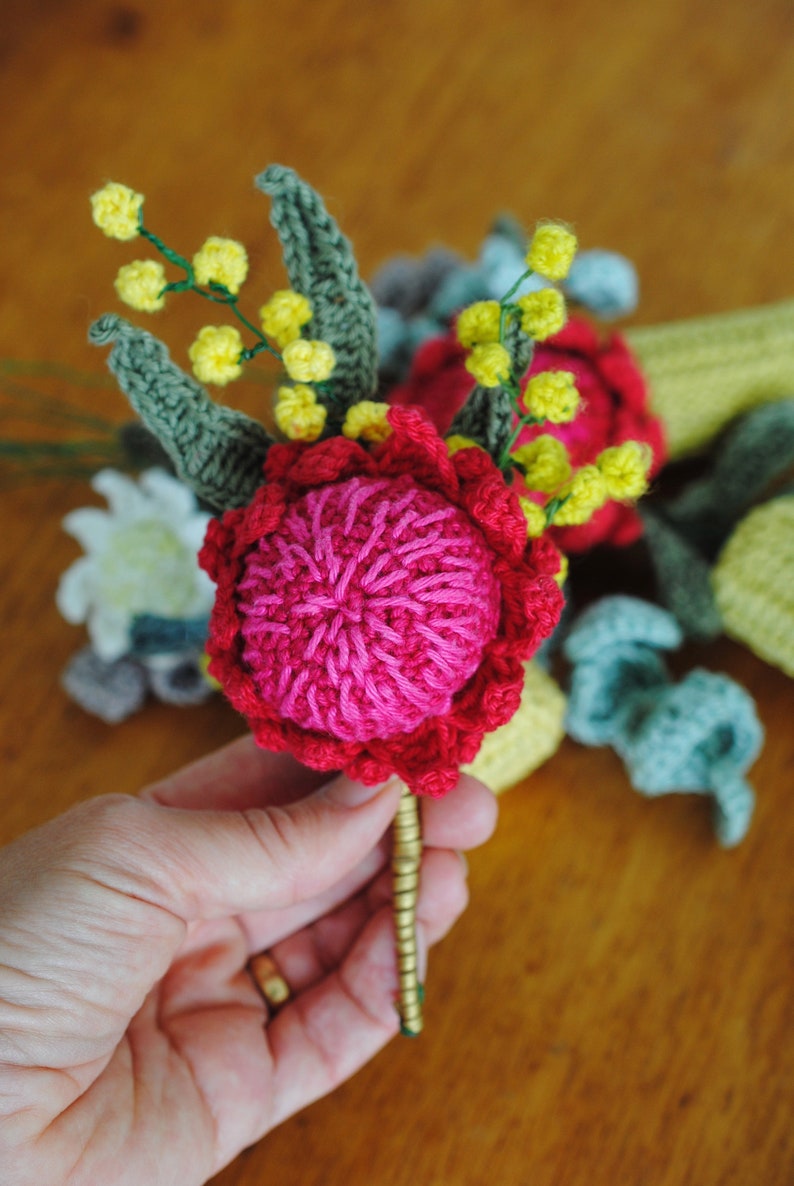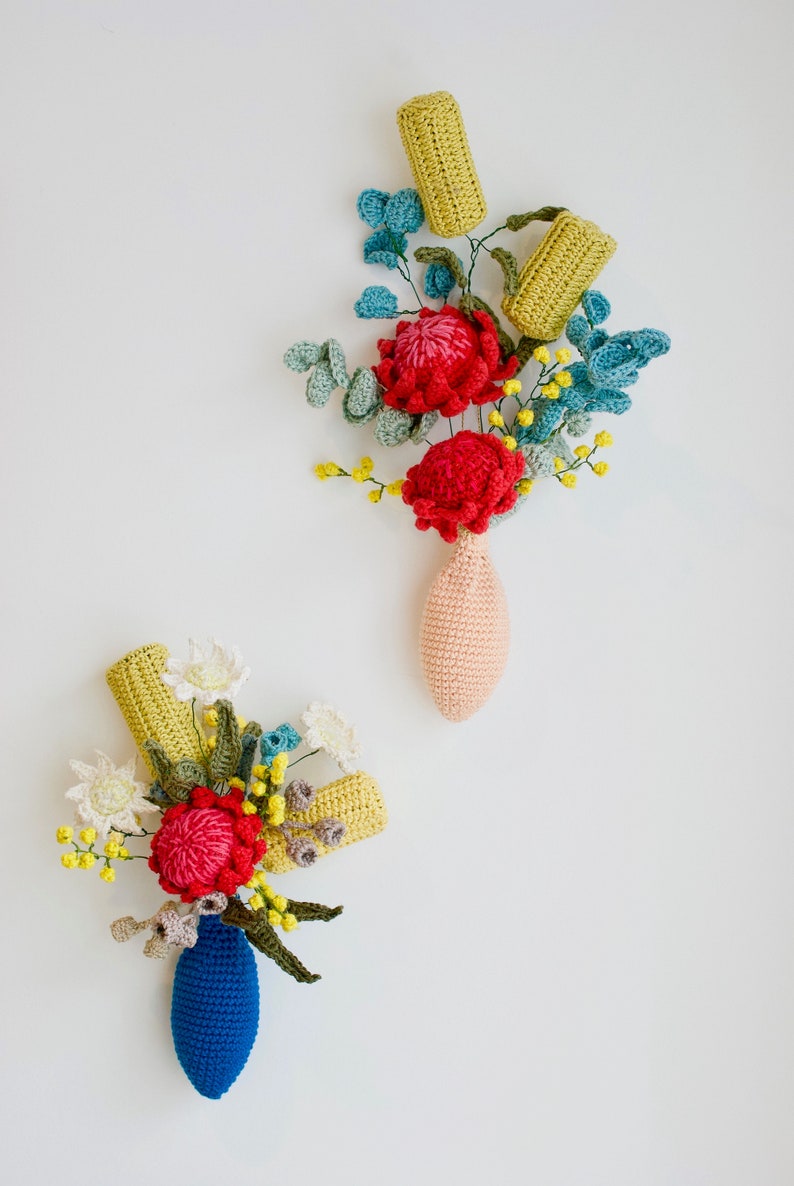 Cacti – Zoe Creates
If your valentine is a succulent or cactus lover with a black thumb, this quintet of cacti would make the perfect gift, that they can't kill. The 5 varieties of cactus are super quick to make up and are suited to someone familiar with Amigurumi. You can find the pattern for free on Zoe Creates blog.
Prickly Pear – K Hook Creations
If you are looking for a flowering and super adorable cacti k hook creations has the cutest prickly pear cacti pattern I have seen yet! The Cactus is built in 4 sections that are sewn together. Because of this each piece is small, but it is the perfect on the go project that wont fill your bag too much! The pattern is free and available here.
Yarn: Aran weight in green, brown, yellow, off-white, red. Hook: E (3.5mm) crochet hook, 2 inch terracotta pot, fiberfill
Full List of References:
None of the patterns in this blog post are my own. The patterns and images from this post can be found in my reference list.